MORTON, Ill., January 28th, 2015 – 360 Yield Center today announced a new ripper point for aftermarket use on Case IH and John Deere rippers. The 360 BULLET™ Ripper Point is designed with an aerodynamic profile and wide wings to more completely fracture the soil profile, eliminating undisturbed berms of soil that occur between points of traditional rippers and OEM points.
"Nutrients are locked up under berms created by traditional ripper points," said Ron Lloyd, agronomy and research lead for 360 Yield Center. "Corn roots travel the path of least resistance and can move along the crease created by the ripper point. Due to this, nutrient utilization is diminished and yield can suffer. Unlocking these 'berms' allow the roots to access water and nutrients in the entire tilled soil profile."
More Work without More Horsepower
The aerodynamic 360 BULLET uses wide wings to create a wake behind the ripper. This wake spreads to the middle of the row and creates a fracture line that loosens soil to the full ripper depth, eliminating the berms common during traditional tillage. And, it does this without the need for more horsepower or fuel.
"Our design challenge was to get more fracture without forcing growers to change ripper tractors – we had very similar horsepower requirements during testing," said Tony Carbaugh, lead tillage engineer at 360 Yield Center.
360 Yield Center tested the 360 BULLET Ripper Points in a variety of soil types and conditions, and time trials showed the 360 BULLET moved more soil but did not take significantly more horsepower or fuel. In half-acre time trials, the 360 BULLET took only 1.5% more time to reach the finish line, and it maintained a pulling speed equal to traditional ripper points.
"We used the same tractor and the same ripper," explained Carbaugh. "But, the 360 BULLET achieved a lot more work with very similar horsepower and fuel. Growers won't have to change their tillage practices or equipment – just their ripper points – to gain better, more fractured soil profiles."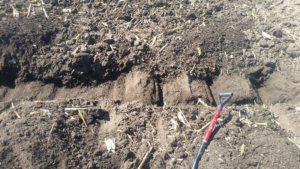 360 BULLET Ripper Points are currently available for Case IH 870, 875, 530 and 730 ripper models and John Deere 512, 2700 and 2730 ripper models. 360 BULLET also will be available for Landoll and the Krause/Kuhn Dominator ripper and most other models in the future. The 360 BULLET Ripper Points retail for $130 per point. Visit www.360YieldCenter.com/Dealers to find a 360 Yield Center dealer near you.
About 360 Yield Center
Gregg Sauder and his team of farmers, agronomists and engineers at 360 Yield Center have a mission – for every farmer to gain more control of nutrient management decisions to capture more yield potential. We put the farmer at the center of it all and take a 360-degree view of nitrogen and nutrient management to better manage inputs for better results. To learn more, visit www.360yieldcenter.com, email info@360yieldcenter.com, call us at 888-512-4890 or contact your local 360 Yield Center Dealer.
Media Contact:
John Larkin
C: 309.208.3585
jlarkin@360yieldcenter.com